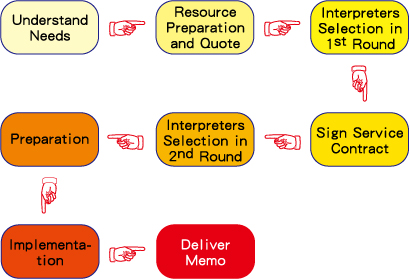 Step 1: Understand Needs
Be sure to know the client's interpreting requirements, including the schedule, locations, topic, languages, and other detailed requirements.

Step 2: Resource Preparation and Quote
Contact interpreters for their availabilities according to the location, experiences and topic etc. At the same time, send the quote to the client and get initial approval.

Step 3: Interpreters Selection in 1st Round
According to client' requirements, select appropriate interpreters and send the resumes to the client but without any contact details in resumes.

Step 4: Sign Service Contract
The client need to sign a service contract with Golden View and prepay deposit for the interpreting task. This step especially applies to the new clients for the first time cooperation.

Step 5: Interpreters Selection in 2nd Round
GV will send interpreters' contact details to client once getting paid of deposit. The client may need to arrange interview to interpreters by phone or face to face, and finally decide the selected interpreters. And the client needs to confirm the quote as PO to GV.

Step 6: Preparation
The selected interpreters will need to make good preparations based on the topic and materials provided by the client and Golden View.

Step 7: Implementation
The interpreters implement the task on time at the specified locations including accompanying client back to hotel.
Step 8: Deliver Memo
The interpreters may need to deliver the memo of conference or negotiation or any discussed content to the client.