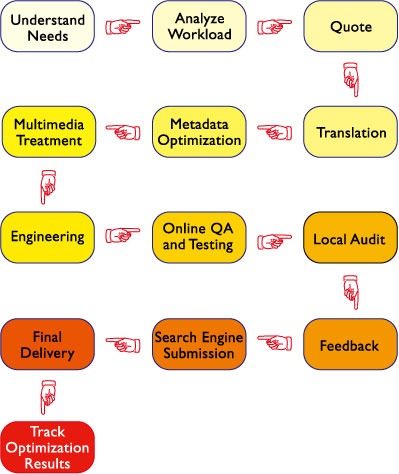 Step 1: Understand Needs
Be sure to clear of the client's website localization requirements, including webpages to be localized, images and Flash to be processed, deadline etc.
Step 2: Analyze Workload
Extract the text to be localized, use CAT tools to analyze the volume in translation, typesetting and engineering etc.
Step 3: Quote
Submit the quote to the client and get approval.
Step 4: Translation
Arrange translation including TEP.
Step 5: Metadata Optimization
Make these matadata of website accordingly localized with the needs of target users.
Step 6: Multimedia Treatment
Images , Flash and Video to be localized of the website.
Step 7: Engineering
Re-organize the structure of website and webpages with localized elements, to adapt into multilingual layout.
Step 8: Online QA and Testing
Implement linguistic & layout checking and function testing page by page, and make revisions until satisfactory.
Step 9: Local Audit
Put the localized website into use at the local, in order to test the website.
Step 10: Feedback
Revise the website content and layout according to client's corrections, until they are satisfied with.
Step 11: Search Engine Submission
Submit the client's satisfying website to all search engines, in order to make the website indexed by search engines.
Step 12: Final Delivery
Upload the entire multi-language website to client's host directly. Or send them website in a package. So client can upload the website by themselves.
Step 13: Track Optimization Results
After optimizing website and submitting the website to search engine, special projector will track optimization results of website, to discover and solve problems in time.